Jonathan visits bomb blast victims at Maitama District Hospital
By Ehi Ekhator, Naija Center News.
President Goodluck Jonathan visited EMAB plaza, the venue where the bomb blast that killed 22 people in Abuja went off on Wednesday.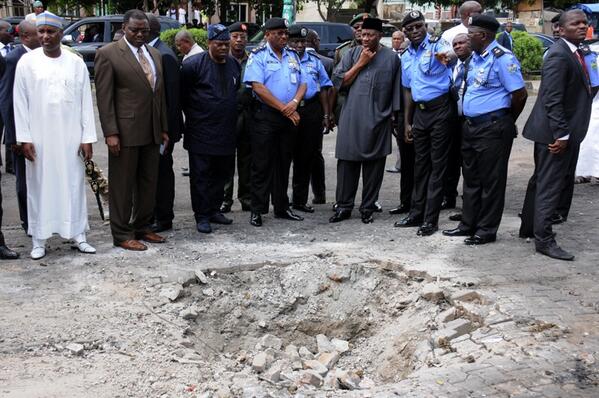 He left the scene and visited the Maitama District Hospital, where the those with serious injuries from the blast are presently receiving treatment.
The president was accompanied by the Minister fo Health, Prof. Onyebuchi Chukwu, his Chief of Staff, Brig. Gen. Jones Arogbofa and other top officials.
The President arrived the scene at about 11 a.m and was detailed at the venue where the bomb went off by the Assistant Inspector-General of Police, Mr. Suleiman Abba.
After about five minutes, he moved to the hospital where he saw the survived victims under a tight security.
The Presdent who addressed the media after his visit urged Nigerians to bear the pains; adding that the security agencies are doing everything they can to end insurgency in parts of the country.
Jonathan admitted that as the President, he had been having his fair share of the pains as he could not visit the places he would have wanted to go due to the current problem, describing the insurgency as one of the darkest phases of the country's history.
He expressed sadness that some people are engaging in killing their fellow compatriots while some are busy doing everything they can to build the nation.
More pictures: